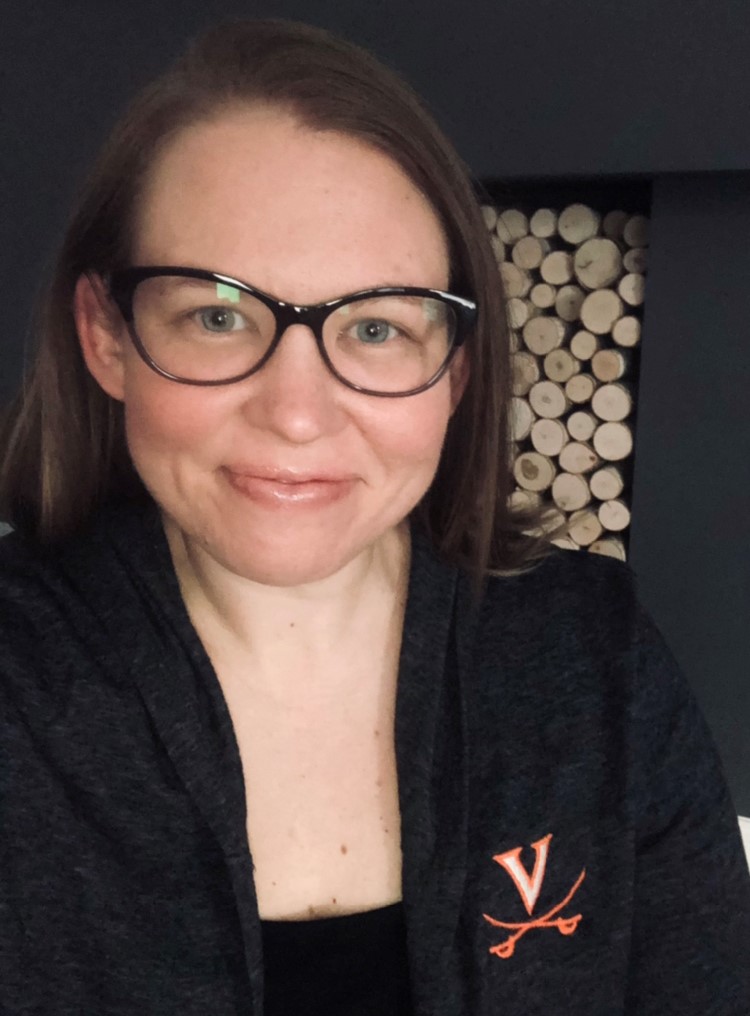 In recognition of April as National Child Abuse and Prevention Month, we highlight Carri Burgjohann, UVA's Youth Protection Program Coordinator, Office of Youth Protection in the Department of Safety and Security. Carri arrived in June 2020, a summer with no children on Grounds and UVA's day camps and youth activities all cancelled. Carri has spent the past year cultivating relationships with University and community stakeholders whose programs or initiatives serve youth, upgrading the Office of Youth Protection website, expanding online resources, and overhauling the online training about sexual abuse that is required for all staff, students, and volunteers serving in University covered youth programs. These new resources roll out in mid-May, in time to reach program staff in IM-Rec Sports Hoos Having Fun ½ Day Camp and a range of Athletics sports camps that will resume this summer. The training module, which takes about 40 minutes to complete, will also be available to anyone at UVA.
"Education and training are important to help people recognize concerning behavior and trust their gut to report it," Carri says. "UVA has zero-tolerance for child abuse and neglect." 
Q&A with Carri Burgjohann, Youth Protection Program Coordinator
Q. What is your background?
I have spent the last several years in nonprofit ministry and scouting industries overseeing training, membership, facilities, risk and compliance, and youth protection. I have also taught in the classroom and worked in educational administration.
Q. Why does UVA need an Office of Youth Protection?
Children across the country interface with universities in many capacities and in large numbers. There are positions like mine popping up throughout higher education. In terms of sexual abuse, nothing is different about our programs than youth-serving programs anywhere else. There are children, and sadly there are people who work or serve in those programs who have unfortunate intentions, and when you put those things together, you have risks. I desire for the University to be great and good in our work with children and the Office of Youth Protection is one way we're streamlining efforts to prevent, identify, respond, and report abuse and neglect.  
Q. What are the national statistics of sexual abuse in children?
One in four girls and one in six boys experience sexual abuse before the age of 18 years old. The majority of sexual abuse is committed by someone the child knows.
Q: How does abuse impact a child?
For children, the impact of abuse can impact social and emotional well-being, show up in behavior or academic performance, and even impact their physical health into adulthood. Abuse can impact the child for the rest of their life influencing behaviors such as substance abuse, homelessness, inability to hold stable vocation/jobs, or maintain appropriate relationships.  Front-line workers in police, hospital emergency departments, and schools respond to the consequences of abuse—both in individuals and in the generations that follow them.  
Q. How does your office and the mandatory training help lower sexual abuse?
If individuals seeking to serve in youth programs are aware of the University's standards around behavior, know a background check will be performed, and training provided to all program staff, some will self-select out of the application process. For those with ill intentions who make it through these gates, prevention standards like our Code of Conduct for Minors Protection found in our Resource Library and in the University's Protection of Minors and Reporting Abuse Policy (HRM-050) set the stage for appropriate and not appropriate behavior and educate/empower people to identify and report. Training combined with other tools like background checks are powerful ways to reduce the likelihood of abuse and increase the likelihood of reporting.
Q. Who needs to take youth protection training?
Anyone who works or volunteers in a "covered program" with children at UVA; that is, a program where children are placed directly under their care here. The training expires every two years. If someone has taken training that is not yet expired, I would still highly encourage them to complete the updated course because it presents new material and balances information about protecting the child and the program staff member. It takes multiple exposures to training and information to remember it all. Everyone is invited to take this training by contacting the Office of Youth Protection at youthprotection@virginia.edu.
Q. How will you measure success?
First, we will see an increase in disclosures and reporting. Reporting is not only limited to what we see on television shows or hear about in the news where someone calls child protective services. It's people having the right conversations to say, "here's what I saw and I'm concerned," or "this happened and it made me uneasy." While none of us wants to see that increase, we want people to talk openly about this. One of the functions of my role is to visit programs as they are operating and see them in action. If we are successful, we will see a cultural change – a broader understanding of what is acceptable when working with youth, noticeable differences in how people conduct themselves, and how program directors and staff talk with one another and hold one another accountable. Our programs already operate with a high level of integrity, and I'm excited to equip them with the tools to continue to do great work!
Q. How would my report or expression of concern about a behavior change anything?
When people speak up, share honest concerns, or when multiple reports are made, it allows program directors or authorities to look at the bigger picture of what is happening and provide support where needed.
Q. What has changed about child sexual abuse over the past years?
We talk about it more as a society than we did when I started in the industry ten years ago. For example, parents talk about bodily anatomy with their children more frequently than before. Topics like LGBTQ+ identifying youth are more frequently heard. Resources around peer-to-peer abuse are more readily available. Even hearing the word "consensual" in social media or at the lunch table in a high school between a group of students is more common. 
Q. What keeps you motivated in your job?
We want the parents of children participating in programs at the University to know what they should expect regarding the safety of their children when they are in our care. We want families to have positive experiences in our programs and for these programs to have a lasting legacy here at the University. At the end of the day, I think about it in terms of the life of a child. They deserve the same level of respect, dignity, and care here as at any other youth program across the country.